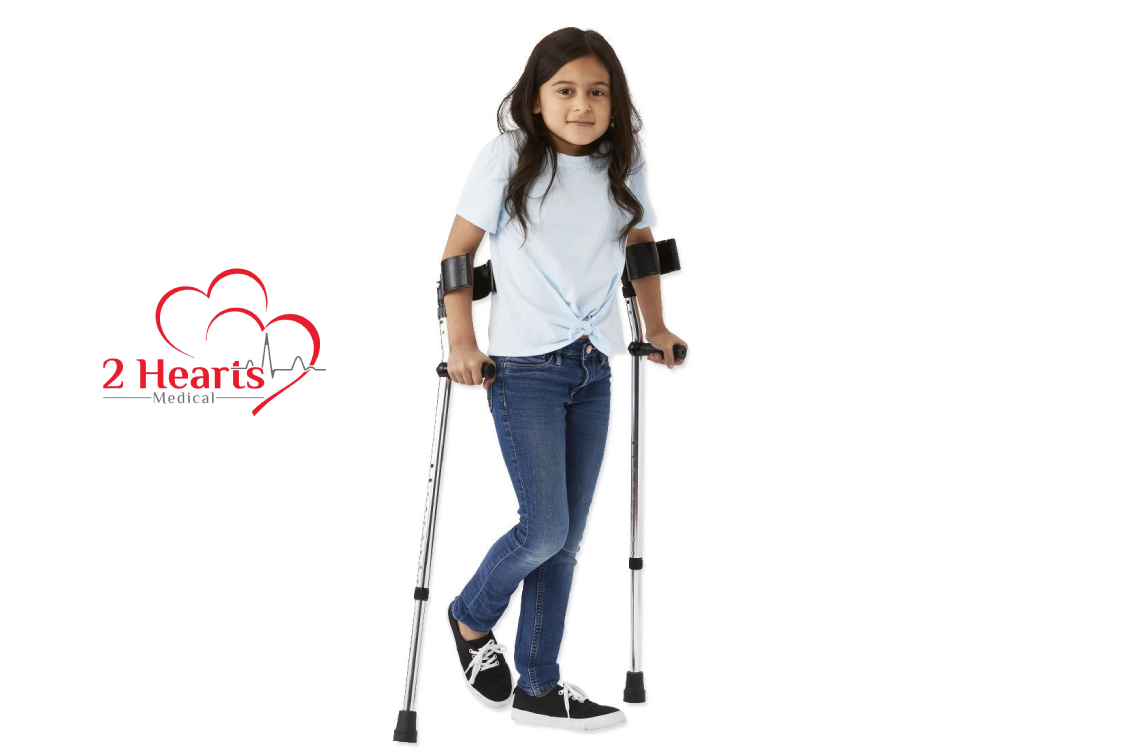 Pediatric crutches can help your child recover faster from leg, foot, or ankle injuries. They are important in reducing the amount of weight placed on the injured area. Our pediatric crutches—found on the "Over the Counter" section of our website—can help improve mobility, and keep children with a specific injury on the road to recovery.
The pediatric crutches we offer are made of durable aluminum and feature a push button for easy height adjustment. They are for users between 4'0" – 4'6" tall, and feature a marked height for easy adjustment. They are sold in pairs.
Benefits
Pediatric crutches have many benefits for a child recovering from an injury or other medical issue. Children with crutches should move slowly at first, and get used to using them. With that in mind, the advantages of pediatric crutches include:
Quicker rate of recovery – The crutches help children keep their weight off of their injured leg. Medical experts generally agree that the average time for a broken leg to heal is four to six weeks, so it's important to allow the leg to heal fully without weight.
Improved posture – Pediatric crutches are designed to help keep the child's spine straight while in motion and can help improve a child's walking gait.
Mobility aid – Some children suffering from musculoskeletal challenges or diseases such as cerebral palsy can benefit from using crutches.
In addition to physical assistance, pediatric crutches can provide psychological support and independence. Crutches should be placed a certain distance and not too far in front of your child's body. Their weight should be on their hands, not their armpits.
Track of Recovery
You don't need to search any further for pediatric crutches as you will find what you are looking for at 2 Hearts Medical. Pediatric crutches are made for a child's arms and legs. They are designed to get your child on crutches on a track of recovery. 2 Hearts Medical is a medical supply company offering high-quality and carefully selected medical equipment and supplies. We are readily available to answer any questions you may have about the pediatric crutches we offer.