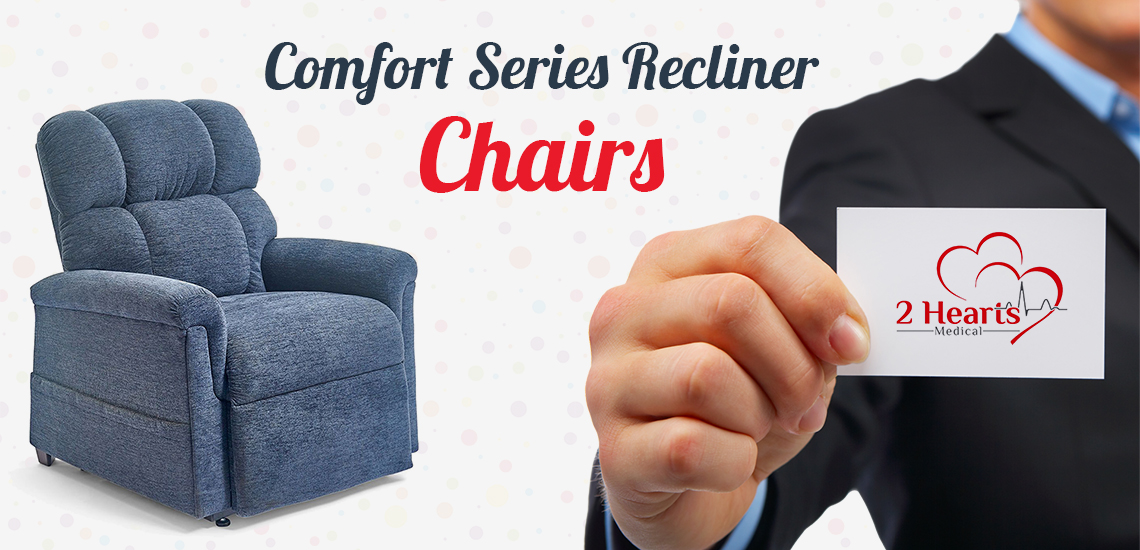 Are you sitting comfortably? As you get oldereveryday tasks like finding a comfortable place to sit can become tricky. Sitting down and getting back up can feel like chores. Our comfort series recliner chairs offer the perfect solution. Plus, they are also ideal during the recovery from an injury.
At 2 Hearts Medical, our goal is to give you the tools you need to live life to the fullest. Recliner chairs can make the difference between relaxing comfortably in your home and being restless or uncomfortable.
Here are just some of the features of the range:
Three-way recliner technology helps you find the perfect position
Forward adjustment makes it easy to stand up
Lower back pain improves because of outstanding lumbar spine support
Extended armrests provide stability when entering or exiting the chair
Transitioning between chair positions is discrete, gentle, and quiet
Controlling the chair couldn't be simpler: two buttons manage the entire range of movement
Weight capacity ranging up to 375 lbs.
Simple to recharge using a USB port
Chair comes equipped with a battery backup system, protecting you during power cuts
Designed in a timeless style to look beautiful in your home and blend in with your furniture
Available in a range of colors and sizes, including small, medium, tall, large, and heavy-duty
Manufactured by expert American craftsmen and built to last
Comforter armchairs are an excellent addition to your home even if you don't currently need the support. You gain an elegant, comfortable piece of furniture that will soon become everyone's favorite.
Talk to us at 2 Hearts Medical today about your requirements. We're here to help you choose the best solution from our series of comfort series recliner chairs and enjoy a new level of comfort.