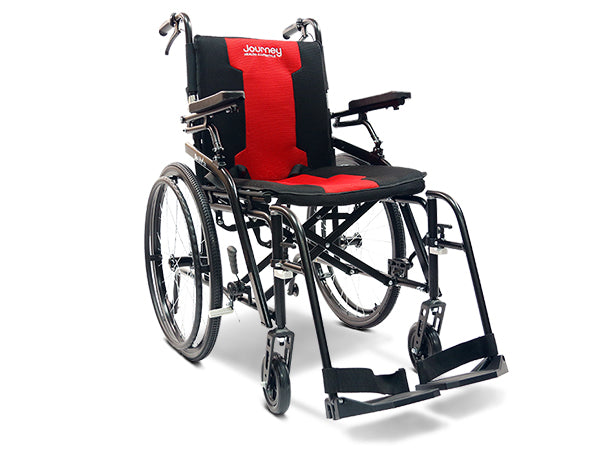 Electric Wheelchairs
Our electric wheelchairs are known for their comfort, ease of handling, and portability. They are lightweight and designed with you and your caregivers in mind. At 2 Hearts Medical, you will find the most comfortable and safe electric wheelchairs with modern features such as Bluetooth connectivity. We have the ideal mobility solution for you!
Assembly and Portability are Key
Two key features ofthe electric wheelchairs we offer are ease of assembly and portability. Our electric wheelchair models have these and other great features for your comfort and convenience:
Literider Envy Power Chair – A great choice for maneuvering through narrow halls and doorways.This chair is lightweight—the heaviest piece weighs only 35 pounds—and very portable. Its tubular design is disassembled into four lightweight pieces. The batteries operate for nearly 16 miles on a single battery charge. It also offers a comfortable seat and ample footplate.
Zoomer Electric Chair – This chair is easy! To maneuver, just move the joystick in the direction you wish to go. Easily control the speed by selecting a range and pushing the joystick. Its two motors move you along with a speed of up to nearly four miles per hour. You can easily adjust the seat height, back support angle, and controller position. It can be used over various terrains and fits under most tables and desks.
Portable Electric Wheelchair – Our WHILL Model Ci2 electric wheelchairoffers an all-in-one controller for steering and speed adjustment. Its modern features include state-of-the-art Bluetooth connectivity, a palm-guided joystick for easy handling, and ergonomic controls. The Ci2 is easily portable and readily disassembled for placement in yourvehicle.
Latest Features
If you've been searching for electric wheelchairs with all the latest features, search no more. We can help you fulfill your electric wheelchair requirements. We have done the research on our electric wheelchairs and only offer the safest, most comfortable, and most reliable power chairs. Our staff cananswer your questions and help you choose the rightmobility solution for you. Choosing 2 Hearts Medical gives you the products and services you need!