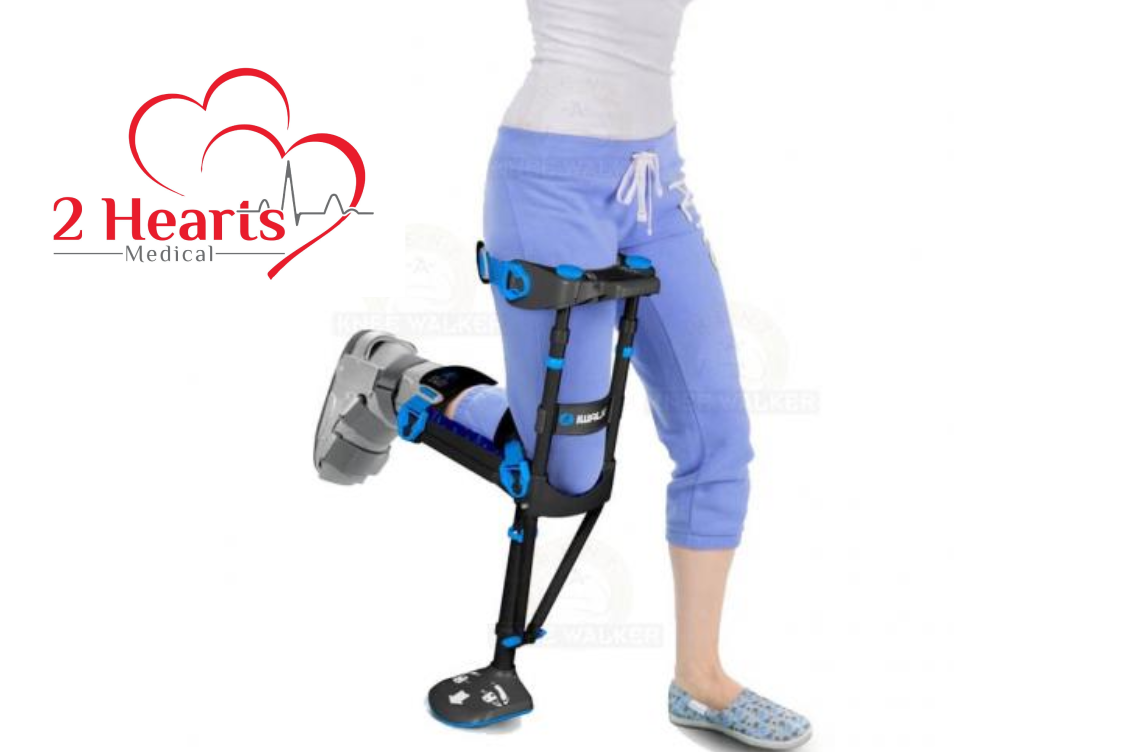 If you are searching for a "knee walker rental" you will find what you're looking for at 2Hearts Medical. Knee walkers are a medical mobility device that provides a safe and comfortable alternative to crutches for those recovering from injury or surgery below the knee.
Knee walkers help you to recover from an injury or surgery while you remain active and mobile. They are easy to maneuver. On a knee
walker, your leg muscles are leveraged to support your body as the wheels roll and you move freely. "Knee scooter" and "knee walker" are interchangeable terms used to refer to the same mobility aid device.
Our Recommended Knee Walker
We offer the NOVA Knee Walker for rent. This knee walker is an excellent mobility device for foot, ankle, or Achilles injuries that require the foot or leg to be non-weight bearing during recovery. It is a great alternative to crutches or folding walkers, which can cause back or underarm pain with too much use.
The NOVA knee walker is an excellent mobility device for foot and ankle injuries. It is safe and maneuverable, and includes the following features:
A 300-pound weight capacity
Eight-inch rugged wheels
Padded knee platform that adjusts for left or right knee
Folding steering column for easy transport and storage
The knee walker allows you to maintain an active and more independent lifestyle to enable your progress towards recovery.
How the Knee Walker Works
Knee walkers use an elevated padded platform that rests the knee and provides continuous support. The design enables you to balance using two legs whereas crutches force you to use one leg. You move by pushing off with your good leg and steer the device by turning the handlebar to control the direction of the front wheel.
We assure you of access to the medical equipment you need and the services you expect. Your search for a knee walker rental ends with 2 Hearts Medical. Our experienced and customer service-oriented staff can answer questions and ensure this knee walker is right for you.