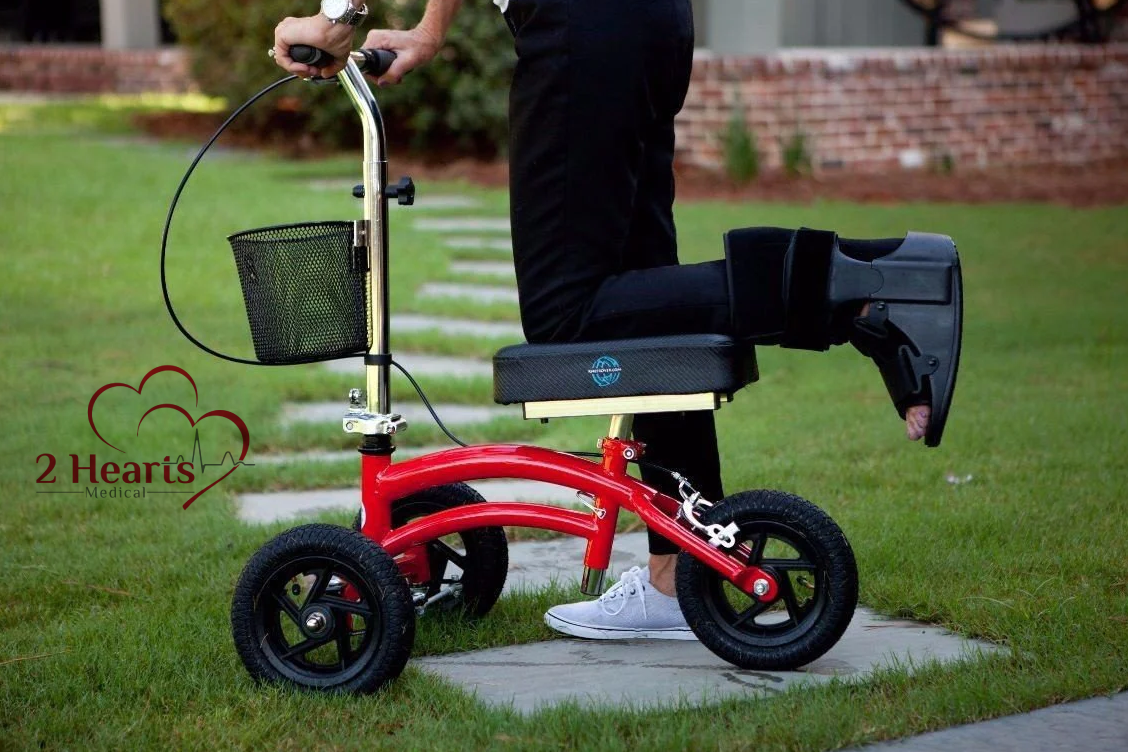 When searching online for a knee scooter for rent near me you might think you need to cast a wide net to find exactly what you're looking for. Supply chain disruptions and other pandemic effects have made certain medical equipment scarce. The good news is that you don't need to search any further! 2Hearts Medical has high-quality knee scooters available for rent at a price you can afford. Don't hesitate to try out our scooters and maintain your active lifestyle.
Excellent Mobility Device
We offer the NOVA Knee Walker as a wonderful long or short-term alternative to crutches or folding walkers. Crutches in particular can cause back or underarm pain when you use them too long. The NOVA Knee Walker is an ideal mobility solution for foot, ankle, or Achilles injuries when the affected area has limited weight bearing, or cannot bear any weight at all. You can rent this scooter weekly or monthly.
Note these special features associated with the NOVA knee scooter:
Supports up to 300 pounds
Comes with eight-inch wheels suitable for most terrains
Has locking hand breaks
Comes with a knee cushion that can be adjusted for the left or right leg
Folds easily for quick storage
You can't go wrong with a safe, lightweight, and comfortable knee scooter that is easy to maneuver. A weekly rental is only $35 per week and a monthly rental is $125.
Maintain an Independent Lifestyle
When searching for a knee scooter for rent near me you will find the ideal scooter at 2 Hearts Medical. We are a medical equipment and supply store company located in Webster, Texas. Our experienced and customer service-oriented staff can answer questions and help ensure this knee scooter is the best mobility option for you. The NOVA Knee Scooter could be the right solution for you to maintain an active and more independent lifestyle!